Blog
Back
Escape to Beautiful Victoria this Winter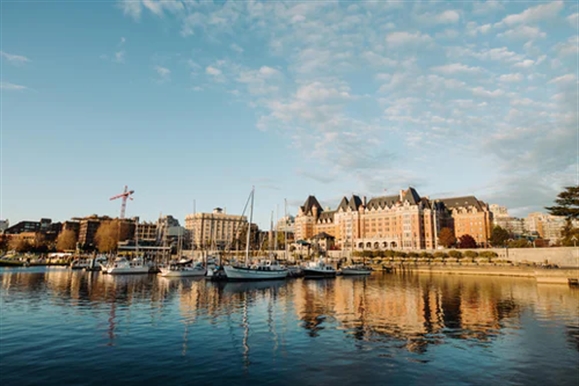 Image by: Armon Arani
If you're looking to get away this winter, then why not escape to Victoria? This coastal BC city never gets too cold and is home to so many exciting restaurants and attractions. Keep reading to discover why snowbirds and travellers alike should make Victoria their home base this winter.
Mild Weather
One of the best things about Victoria is the weather. Unlike most of Canada, Victoria enjoys mild temperatures all winter long (so there's no need to bring a heavy winter coat or boots with you). The average daily high temperature is around 8 or 9 degrees from December to February, with the lows being around 5 degrees. This is far from the crippling sub-zero temperatures experienced in many other Canadian provinces, which means you can go about your daily life in Victoria just as you would in the fall or spring back home.
Culture & Food
Victoria is known for its natural beauty and proximity to the ocean, but it's also got a bustling art and dining scene. The Avenue Gallery and the Royal BC Museum are popular spots if you're looking for a dose of culture. Il Terrazzo Ristorante has incredible Italian food, while Fishhook is known for its Indo-French-inspired seafood. And don't miss out on Barb's Fish & Chips on Fisherman's Wharf, which reopens annually in March.
Outdoor Activities
Owing to the temperate climate of Vancouver Island, there are tons of outdoor activities you can do all year in Victoria. These include golfing, hiking, walking on the beach, or fishing. Gorge Vale Golf Club and Highland Pacific Golf are both public, 18-hole golf courses with beautiful views. Meanwhile, the best place to go for a beach stroll is undoubtedly Willows Beach. There is also a scenic walk you can do from one end of the downtown Victoria Harbour to the other. Further, the flowers and gardens are in full bloom as early as March and April in Victoria. Be sure to book a trip to The Butchart Gardens in the late winter/early spring.
If you're a snowbird whose usual travel plans have been halted, then consider spending the winter in Victoria. Book your stay at the Days Inn Victoria on the Harbour, the perfect jumping off point for exploring Vancouver Island while escaping the harsh winter conditions of home. We combine quality accommodation and top-notch amenities, with a stunning location right on Victoria's downtown harbour.
Back
Recent Post
For those who live on Vancouver Island, many people have to travel to Victoria for specialist medical procedures, such as cancer treatments, surgery or other health-related appointments. Sometimes you may be accompanying a loved one or visiting for compassionate reasons.
Halloween is only a week away, and we couldn't be more excited! Despite the global pandemic, there are still many ways that we can safely celebrate this fun and festival holiday!
Prev Post
Next Post